Please save the date! The 17th St. John LaLande Holiday Auction is Saturday, November 14, 2015 at the Adams Pointe Conference Center. The evening starts at 5:30 p.m. with Silent Auction shopping. Dinner and the Casino are available from 6 p.m. – 8 p.m. The Live auction begins at 8:30 p.m. and live music starts at 9:30 p.m.
We welcome sponsorships and/or basket donations! You may leave them in the school office. Thank you for your support!
Volunteers are Needed:
Our auction needs volunteers to help with various efforts to ensure a successfully and enjoyable evening. Please sign up HERE if you are able to help.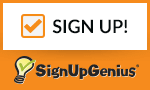 Volunteers that signup by October 1, 2015 will be entered into a drawing for 2 free tickets to see Janet Jackson at the Sprint Center on October 22.